Last week, I published inspiration from Nick Vujicic. This week, I have inspiration from another of my heroes who's missing a limb. If you haven't heard of Bethany Hamilton, she's the teenaged surfing champion who lost an arm in a shark attack and went on to become a professional surfer.
The Soul Surfer DVD isn't scheduled for release until August 2, but you can still find the movie in some theatres. My whole family loved it. It's an inspirational sports movie – and an inspirational faith movie. We really appreciated that they found such experienced actors for the film. Dennis Quaid and Helen Hunt as Bethany's parents and AnnaSophia Robb as Bethany add a lot of credibility.
Here's the official movie trailer for Soul Surfer:
Bethany also has a book for young adults:
I can't help but be amazed at what an awesome role model Bethany is for the many teenaged girls who struggle with body-image issues. My family knows many figure skaters who struggle with their body image and some with eating disorders. Bethany has had to work through the normal teenage body-image issues and a whole lot more.
Here's an interesting video of Bethany talking with some other young adults last October about body image, self-confidence, and self-acceptance:
Here's another interesting video, this one of Bethany telling her story a year ago.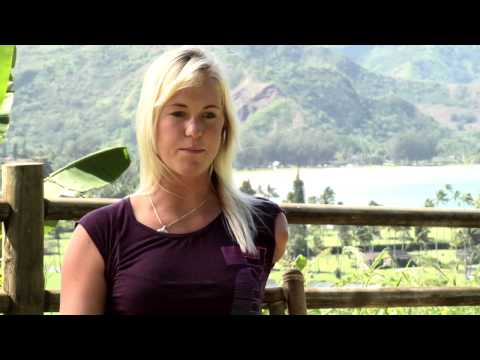 One last bit of inspiration – my favorite quote from Soul Surfer:
I could never have embraced this many people with two arms. – Bethany Hamilton